5 Bear Brook State Park
Close to the cities of Manchester and Concord and handy for those who wish to mix outdoors with more urban vacation activities, Bear Brook is the largest developed state park in New Hampshire. Its 101 campsites are in the woods surrounding Beaver Pond, where campers can rent canoes and boats. The park has a camp store, showers, laundry, and dumping station for RVs; both ice and firewood are available. Forty miles of trails explore its 10,000-acre expanse of forest, bogs, ponds, and hilltops, with trails for hiking, mountain biking, and horseback riding. There are two archery ranges available for those who bring their own equipment.
Also in the park is the Richard Diehl Civilian Conservation Corps (CCC) Museum, in one of the country's most complete CCC camps remaining intact. Listed on the National Register of Historic Places, the former depression-era camp also houses the New Hampshire Antique Snowmobile Museum.
6 Jigger Johnson and Blackberry Crossing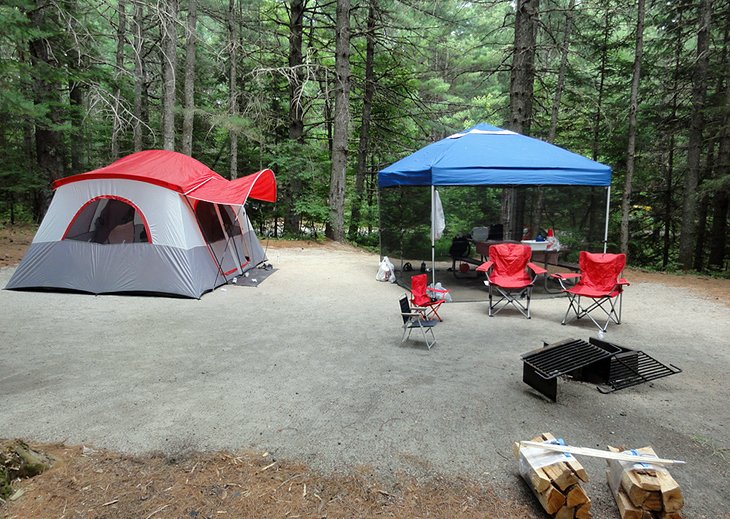 Six miles apart along the Kancamagus Scenic Byway, these two campgrounds are inside the White Mountain National Forest. The large tent sites in each are well spaced, carved from dense second-growth forest along the banks of the Swift River. Close to the campgrounds are trails climbing Mt. Chocorua and several other peaks, as well as a trail leading to beautiful Sabbaday Falls. A short trail connects Jigger Johnson to the Russell-Colbath Historic Site, and Blackberry Crossing sits only a short walk from the Albany Covered Bridge.